Rachel is an artist working across theatre and gaming. Her work is passionate and articulate, spanning climate change, body politics and Australia's refugee policies.
She lives on Gadigal land in Sydney, NSW.
In 2010, as an emerging artist, she began working with Sydney collective Applespiel and since then has been creating work for audiences across Australia, the UK, Sweden and Singapore.
With Applespiel, she creates and performs in theatre works about contemporary mythology, online gaming, and the art of the Youtube apology.
As an associate artist with Boho Interactive, she works with research scientists to develop interactive games and theatre for science settings, such as Singapore Science Centre and the London Science Museum's DANA Centre.
Her debut solo work Everything You Ever Wanted received critical acclaim in Audrey Journal and was supported by Arts NSW, the NED Foundation, ATYP and the NED Foundation. This work will tour in 2020 and beyond.
Return to Escape from Woomera
Fifteen years ago, a group of Australians made Escape From Woomera: a politically explosive video game that put players in the shoes of a refugee held in immigration detention. Applespiel invite you to play Escape from Woomera in this specially commissioned live gaming and performance experience.
Each night, the artists create a live commentary to accompany the gameplay alongside human rights advocates, refugees and the creators of the original game, exploring the contemporary significance of this cultural intervention.
Applespiel would like to advise audiences that this work contains both discussion and depiction of the real experiences of refugees in detention, which may be distressing.
Premiered at Performance Space's Liveworks festival in October 2018.
Read Teresa Tan's article for ABC Arts here.
In development. A new work with Applespiel about the art of the modern apology.
In development. A new solo work about pseudoscience.
2017 - present
An interactive game workshop created as a collaboration between Boho Interactive and Earth Observatory Singapore about responding to natural disasters. Development began in 2018, and workshops begin presentation as part of the Singapore Science Centre's education program in 2019.
Everything you ever wanted
This show contains discussion of eating disorders.
Exploring the science of dieting, weight loss and disordered eating, the project is a deeply personal undertaking into a touchy subject area. Research and development supported generously by ArtsNSW, the Joan Waugh Scholarship, the NED Foundation and ATYP.
The process of recovering from years of chronic dieting introduced Rachel to the work of several dietitians, scientists and psychologists who question whether it is ethical to suggest weight loss to any client, given the evidence that exists around dieting and weight loss (namely, that dieting doesn't work for sustainable weight loss, increases risk of eating disorders, encourages weight cycling and a terrible relationship with food and body). 'Everything You Ever Wanted' explores this research, and how the fear of being fat plays out in our relationships with our bodies and the bodies of others. Joining the voices of the anti-dieters, fat activists and scientists before her, this project aims to examine weight bias and disrupt our relationship with dieting.
Premiered at The Joan, Penrith in March 2018.
Jarrod Duffy Is Not Dead is a devised work by the performance collective Applespiel. Jarrod Duffy was the ninth member of Applespiel, who studies with the group at the University of Wollongong. In October 2010, two weeks before performing an Honours show, he disappeared, leaving behind the furniture at his house and no explanation. Phone, email and facebook yielded no results.
Jarrod Duffy Is Not Dead is the story of that disappearance and Applespiel's hunt to find their missing friend.
Created with support from:
Vitalstatistix's Adhocracy program
HotHouse's 'Month in the Country' residency program
First performed as a development with Merrigong Theatre Company in April 2016, as part of the 'Make it @ Merrigong' program. Realtime review here.
Best Festival Ever is an interactive performance that enhances teamwork and communication, building skills in understanding and managing complex systems. Using hands-on board game mechanisms, participants plan and manage their own music festival. Working together, the audience take control all the way from programming the bands to producing the final concert.
Developed with research scientists from University College London, the Stockholm Resilience Centre and CSIRO, the show explores concepts from Systems Science and Resilience Thinking.
Appropriate for policy-makers, businesses, conferences, management teams, community leaders, arts and festival audiences.
"Systems science is abstract and can be difficult to communicate. Boho's work builds well-crafted, entertaining metaphors, bringing these concepts to life for audiences from all walks of life. We sorely need this kind of experience."
Dr Nicky Grigg, CSIRO
At the request of Carl Sagan
Applespiel believe that we should commit ourselves to achieving the goal, before the decade is out, of sending someone to the stars and returning them safely to the earth. No single space-related arts project will be more impressive to mankind, or more important for the long-range exploration of space-based theatre, and none will be so difficult or expensive to accomplish.
Take a journey into the known and unknown. An interactive audio adventure, led through a reimagined gallery space by a real* astronaut. Audience undertake individual journeys of reflection, creativity and imagination before returning to earth and sharing their discoveries.
Developed for Next Wave Festival 2012, as part of special international project "Wake Up And Watch The Sun Rise: 500 Methods For A New Beginning".

"The highlight was undoubtedly At the request of Carl Sagan, … if you have the remotest interest in the Final Frontier, or perhaps just a penchant for obscure theatricals, this tour is highly recommended"
Tabi Jackson Gee, Melbourne Arts Club
Applespiel Make a Band and Take On the Recording Industry
Applespiel turn themselves into an earnest and dedicated rock band, documenting the process of making, marketing and performing an album. The result is an artwork, which is part theatre show, part live 'rockumentary,' and part rock concert. Developed in partnership with Performance Space in 2012, performed as part of the Helium program at Malthouse Theatre in 2015.

"Applespiel are young, whip-smart, tirelessly creative, and will no doubt be causing a ruckus for quite some time. As with Snail Piece (Underbelly Arts Festival 2010), Applespiel have matched a playful concept with rigorous thought, meticulous preparation, and professional execution. More please!"
Dee Jefferson, The Brag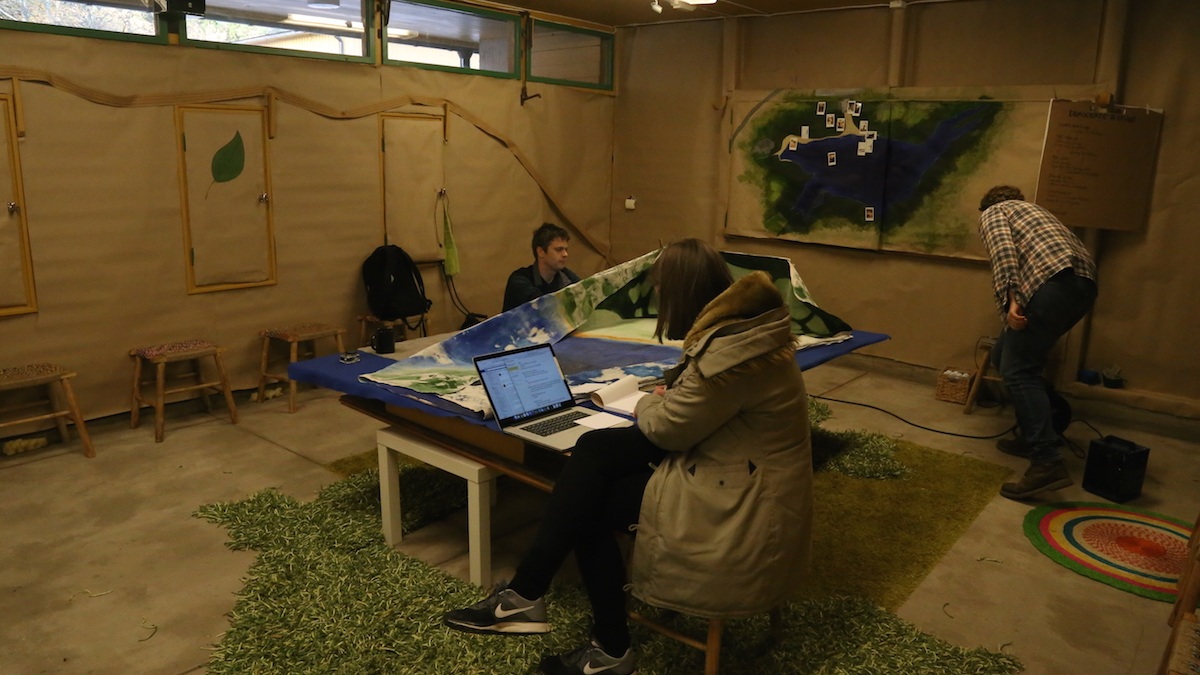 Democratic Nature underwent development in 2016 - a partnership between Boho Interactive, Miljöverkstan (Swedish NGO) and partners in environmental management, governance and education.
Underbelly Arts Festival, 2015
Crack Theatre Festival, 2015
In the coming decades, we are going to experience a gradual but undeniable shortage of clean water. In a recent report the UN predicted a 40% shortfall in the world's water supply by 2030. How are we going to deal with this? The way we use water is full of complexities and contradictions, but how do we manage this problem? Is there a backup plan? Hectoring Apocalyptica is an interactive performance. They don't have the answers. They don't even really have all the questions. But they're making a show about it.
By Nathan Harrison, Emma McManus, Jacob Pember and Rachel Roberts
Creative Workshops
Are you contemplating your next work and feeling stuck?
Are you feeling disconnected from your practice?
Come to a (free) creative workshop for theatre-makers and performance-makers. Any age over 16, any stage (emerging, mid-career, etc).
Over 4 hours* (with a tea break, I'm not an animal) you will dive into your creative practice to generate ideas, blow the cobwebs out, find out what your peers are up to and leave feeling activated in your practice and excited to keep working on your new projects.
We'll use butcher's paper and big textas, we'll shake and move to music to get out of our heads, we'll dig our way through to the heart of your project's creative enquiry, and we'll bounce our ideas and questions off each other.
Intended to be pain-free, friendly and invigorating.
Venue options include Shopfront Centre for Emerging Artists (Carlton, NSW) and various Inner West locations.
*Potentially we'll also run full-day or two-day versions if there's enough interest